Introduction: Sri Lanka famous places
Sri Lanka, also referred to as the "Teardrop of India," is a South Asian island nation with a rich cultural legacy and breathtaking natural surroundings. Sri Lanka is a tropical island paradise located in the Indian Ocean.
The vibrant island country has become one of the world's most popular holiday destinations, due to its beautiful beaches, opulent tea plantations, ancient towns, and rich fauna. In this article, we'll look at some of the most famous places in Sri Lanka, emphasizing the country's spectacular natural and cultural wonders that have never failed to make an indelible impact on visitors.
1. Sigiriya – Famous Places in Sri Lanka
A fascinating UNESCO World Heritage Site tucked away in the centre of Sri Lanka is Sigiriya, popularly known as the Lion Rock. This old rock castle, which rises 200 meters above the luxuriant forest, is a tribute to the nation's rich history and inventive construction methods. Built by King Kashyapa in the 5th century AD, Sigiriya is home to magnificent paintings, exquisite water gardens, and the ruins of a royal palace perched atop the cliff.
The stunning overview of the surrounding countryside that can be seen from the peak of Sigiriya is its most captivating feature. Hence it is one of the best famous places in Sri Lanka For tourists looking for a glimpse into Sri Lanka's ancient history and its alluring beauty, Sigiriya is a must-visit location due to the site's historical significance and gorgeous natural surroundings.
2. Kandy
Kandy is a city bursting with cultural and natural wonders, located in the misty highlands of Sri Lanka. The famed Buddhist temple known as the Temple of the Tooth Relic (Sri Dalada Maligawa), which is home to a tooth relic of Buddha, is located in the centre of the city.
Being there for the daily puja (ceremonial sacrifice) is spiritually enlightening. An excellent location for leisurely strolls is the city's tranquil Kandy Lake, which is surrounded by thick vegetation. Attending enthralling traditional Kandyan dance performances is a wonderful way to become fully immersed in the vibrant local culture.
The Royal Botanical Gardens in Peradeniya, which are close to Kandy and include a wide variety of vegetation, should not be missed. Kandy is a must-visit location for anybody discovering the delights of Sri Lanka because of its fascinating combination of history, spirituality, and natural beauty. It is one of the most famous places in Sri Lanka.
3. Galle -Famous Places in Sri Lanka
The enchanting city of Galle, which is situated on Sri Lanka's southwest coast, has a deep historical and cultural legacy. The magnificent Galle Fort, a UNESCO World Heritage Site that was first constructed by the Portuguese in the sixteenth century and then reinforced by the Dutch, is the main draw of Galle. So, it is one of the best Sri Lanka famous places
Visitors may stroll through cobblestone lanes and take in the colonial-style architecture, cute shops, and art galleries found within the walls of this picturesque stronghold. The walls of the fort are a prime location for mesmerizing sunsets since they provide breathtaking views of the Indian Ocean and the surroundings.
Additionally, the island of Galle is home to some stunning beaches, including the well-known Unawatuna Beach, where visitors may unwind and take in the tranquillity of the shore. Galle continues to be a must-see site for everyone who enjoys both historical elegance and seaside attractiveness.
4. Anuradhapura
Anuradhapura is a historic and culturally significant city in Sri Lanka and is among the most famous places in Sri Lanka. This is quite a famous place It is a fascinating location for history buffs and pilgrims alike because it is one of the nation's old capitals. The city is widely known for its well-preserved stupa, temple, and monastery remains that date to the fourth century BC.
One of the oldest living trees in the world, the holy Sri Maha Bodhi, a sacred fig tree, is a descendant of the original Bodhi tree, under which Buddha obtained enlightenment. The magnificent Ruwanwelisaya Stupa, the Jetavanaramaya Stupa, and the Abhayagiri Monastery are stupendous structures that showcase the architectural genius of the old civilization. For visitors looking to connect with the island's past, Anuradhapura is a must-visit location because of its historical significance and peaceful atmosphere and is one of the best famous places in Sri Lanka.
5. Yala National Park – Famous Places in Sri Lanka
Yala National Park, located in the southern region of Sri Lanka and one of the best famous places in Sri Lanka, is a wildlife lover's delight. Yala has a diversified ecology that includes dry woods, grasslands, and wetlands, making it a perfect habitat for a variety of wildlife.
The park is well-known for its large population of Sri Lankan elephants, leopards, sloth bears, and several bird species. Safari trips provide tourists with an exciting opportunity to see these wonderful creatures up close and personal in their natural habitat. Yala's untamed splendour, with its breathtaking landscapes and wildlife encounters, produces a memorable experience that leaves visitors in awe of the island's natural charms.
6. The Dambulla Cave Temple
The Dambulla Cave Temple, commonly known as the Dambulla Golden Temple, is a fascinating religious monument in Sri Lanka. This ancient cave complex, located in the country's centre, is perched on a gigantic rock and has a great collection of Buddhist art and architecture. The complex consists of five caverns decorated with over 150 magnificent Buddha sculptures and bright murals depicting various parts of Buddhist tales and teachings.
The Dambulla Cave Temple has been designated a UNESCO World Heritage Site due to its historical and religious significance and is considered the most famous place in Sri Lanka. Visitors are drawn to its hilltop setting, which provides stunning views of the surrounding environment as well as a tranquil atmosphere ideal for spiritual meditation and admiration of Sri Lanka's cultural legacy.
7. Nuwara Eliya- Famous Places in Sri Lanka
Nuwara Eliya, located in the scenic hill region, fascinates visitors with its pleasant atmosphere, green tea plantations, and colonial-era buildings. The pleasant aura of this town, known as "Little England," is complemented by its well-groomed gardens, which include the famed Hakgala Botanical Garden and Victoria Park. A tour of a tea farm and factory gives an opportunity to learn about Sri Lanka's renowned tea industry while also enjoying a refreshing cup of world-class Ceylon tea.
8. Colombo
Colombo, Sri Lanka's capital city, is a bustling metropolis that seamlessly integrates modernity with its rich historical heritage. Colombo, with its vast assortment of attractions, provides a thrilling experience for every traveller. It stands among famous places in sri lanka Begin your adventure at the Gangaramaya Temple, a famous Buddhist temple with beautiful construction and an intriguing museum.
Galle Face Green, a scenic urban park along the coastline, is ideal for leisurely strolls and seeing breathtaking sunsets. Immerse yourself in the history of the island at the National Museum of Colombo, which has a large collection of artefacts. Pettah Market is a bustling shopping experience for shopaholics, while Independence Square is a calm location for introspection. Colombo's unique appeal will attract you and make you want to learn more about Sri Lanka's cultural tapestry.
9. Polonnaruwa – Famous Places in Sri Lanka
A UNESCO World Heritage Site, the ancient city of Polonnaruwa is a draw for both history buffs and curious tourists. It is located in the centre of Sri Lanka and is one of the best famous places in Sri Lanka. It was the island's capital from the 11th to the 13th century AD, and now it is a magnificent archaeological site with amazing remains.
Visitors may visit the well-preserved remnants of opulent palaces, dexterously carved Buddha statues and historic temples that showcase the brilliant design of the past. The Royal Palace complex, the Sacred Quadrangle, Gal Vihara with its enormous Buddha sculptures, and the magnificent Rankoth Vehera stupa are among Polonnaruwa's most well-known landmarks.
The journey is made more exciting by cycling through the vast grounds, which enables you to fully appreciate Polonnaruwa's timeless beauty and fascinating history. A visit to this ancient site promises to be a remarkable experience, providing a window into Sri Lanka's glorious past. This place is very much popular as the best famous places in Sri Lanka
10. Bentota-Famous Places in Sri Lanka
Sri Lanka's fascinating coastal town of Bentota is well known for its immaculate beaches and many water sports and is one of the best famous places in Sri Lanka. This town offers the ideal balance of adventure and leisure because it is situated between the glistening Bentota River and the turquoise waves of the Indian Ocean. Jet skiing, windsurfing, diving, and other water activities are available to tourists. They may also enjoy leisurely river excursions to see the fascinating mangrove woods.
With its lush gardens and lovely scenery, Bentota is picturesquely beautiful and offers many chances for leisure activities and spectacular sunsets. Ayurvedic spa treatments are offered for individuals looking to unwind, guaranteeing a peaceful vacation. Bentota continues to be a must-see location for tourists hoping to take in Sri Lanka's natural splendour because of its lovely surroundings and alluring appeal.
Conclusion
Sri Lanka famous places entice explorers and cultural aficionados with its unsurpassed beauty and intriguing attractions. From the busy streets of Colombo to the histories of Sigiriya, the cultural richness of Kandy, the tea estates of Nuwara Eliya, the seaside appeal of Galle, and the natural wonders of Yala National Park, this island provides a compelling experience for all.
Whether you are looking for a spiritual trip, a beach vacation, a wildlife adventure, or a cultural immersion, Sri Lanka has it all to offer. Its friendly people, mouth-watering cuisine, and lively festivals contribute to the tropical paradise. Pack your bags and set out on an adventure to explore Sri Lanka's hidden gems, a nation where natural beauty and cultural splendour combine, leaving you with memories to last a lifetime.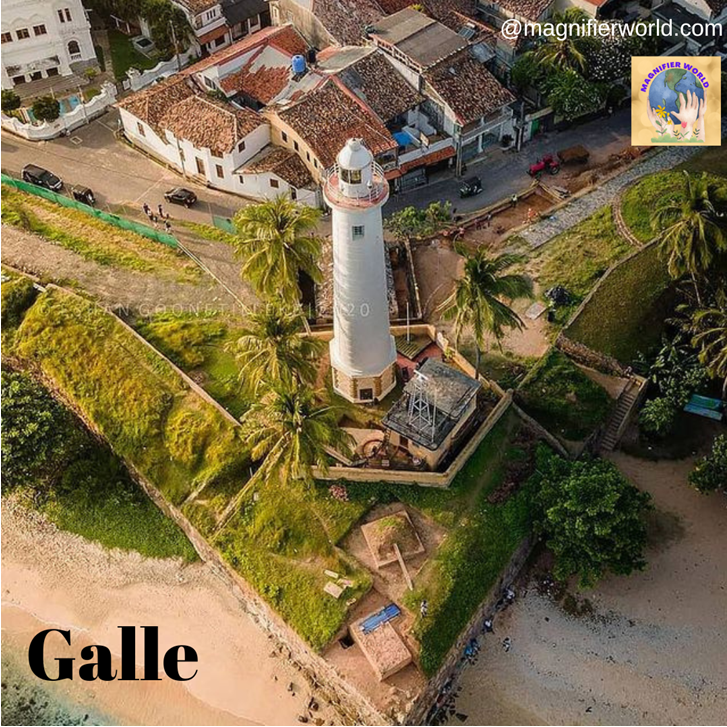 FAQs Famous Places in Sri Lanka
Q1. What are some must-visit destinations in sri lanka?
A1. Some must-visit destinations in sri lanka are Galle, Colombo.
Q2. Which national park is best for safari?
A2. Yala National Park
Q3. Which beach is most famous in Sri Lanka?
A3. Mirissa beach.